Training for space flight has grown increasingly complex and more refined throughout the space program, beginning with the simple missions and simple spacecraft of the 1960s, required specialized operations for moon landings, and continuing to evolve to support the most complex machines and missions in space, Space Shuttle and the International Space Station. Throughout, Frank Hughes worked in space flight training, leading the establishment of the operations and training processes for Space Shuttle and Space Station. Frank will review the history and evolution of training over the course of the program and will highlight the requirements for establishing a successful training program for future space missions.

Frank Hughes served as the chief of NASA's Johnson Space Center Spaceflight Training Division. He spent more than 30 years with NASA, working spaceflight training in Gemini, Apollo, Skylab, Space Shuttle, Space Station and future exploration programs, training the flight crews, the flight controllers, and the trainers.
Frank earned his BS in physics at St. Mary's College, California and a MS degree in environmental management at the University of Houston, Clear Lake.
We hope to keep our lectures free and are now accepting donations in any amount via PayPal.
T-shirts and onesies for sale!
100% of the proceeds are donated to the lecture series for future talks.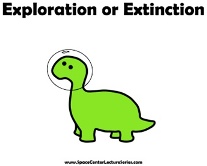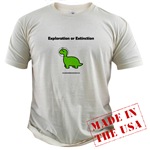 Design inspired by:
"If the dinosaurs explored space, they would still be alive today." -Dr. Don Pettit
"Since hazards from asteroids and comets must apply to inhabited planets all over the Galaxy, if there are such, intelligent beings everywhere will have to unify their home worlds politically, leave their planets, and move to small nearby worlds around.  Their eventual choice, as ours, is spaceflight or extinction." -Dr. Carl Sagan