Space Center Lecture Series aims to bring the wonder and excitment of space, science and exploration to the public in the form of monthly lectures from renowned scientists, engineers, physicians, and astronauts.
From plasma rockets of the future, to scientific expeditions to the South Pole, to heroic repair missions of the international Space Station, to past and future missions to the lunar surface. Join us for an evening of science, exploration, and excitement!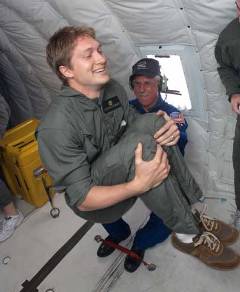 Ben Longmier, co-founder
Ben finished his Ph.D. in plasma physics in 2007 from the University of Wisconsin and has been working with the Ad Astra Rocket Company on the development of their Variable Specific Impulse Magnetoplasma Rocket (VASIMR). Ben has two patents to his name, has authored 25 technical papers, and has given >30 technical talks to date. Ben also completed his M.S. in Engineering Physics, B.S. Nuclear Engineering with a double major in Physics from the University of Wisconsin-Madison. Ben co-founded the Space Center Lecture Series to bring NASA's space, science, and exploration related content to the local Houston and online communities. Ben also maintains a popular space and science demonstration video repository on YouTube that has gained >2  million views over the past two years.  As an undergrad, Ben flew on the KC-135 Vomit Comet.  Ben also enjoys staying active with activities like flying general aviation aircraft in VFR and IFR conditions, SCUBA diving, and playing ice hockey during Houston's ridiculous summers.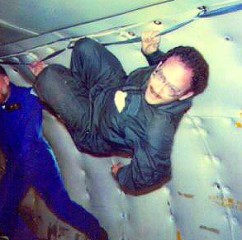 Gary Kitmacher, co-founder
Kitmacher is probably best known by his work - the systems he has conceived and developed, like the soft stowage system, CTBs, used on every flight since STS-71, or the COSS computers first used on Mir, the Priroda Lab Module which served as the center of US operations on Mir, the contracts and international processes he established for integrating payloads, or the ISS Cupola, Nodes and Racks, developed while he served as the Station's Man-Systems Architect in the 1980s. His Emme Award nominated book, Reference Guide to the International Space Station is in its third printing, and the ISS Interactive Web Guide won the Adobe Max Award for the best government website last year. Kitmacher has had a long interest in the uses of photography from space and has written extensively on this for the NASA History Office. His presentation, Views From Space will combine the history of civilization, of exploration, and of spaceflight with the best images from spaceflight.


Douglas Yazell, lead volunteer, AIAA-Houston
Douglas Yazell is volunteering with this lecture series as a member of AIAA Houston Section, the American Institute of Aeronautics and Astronautics. AIAA Houston Section has various resources which help with these events, thanks to years of work by small and large teams of AIAA volunteers past and present. Douglas has worked with Honeywell Aerospace for 27 years, mostly on NASA programs. His career started in Clearwater, Florida, moved to the Los Angeles area (Downey and Huntington Beach), then moved to Houston. His AIAA volunteer work includes technical committees, international sister sections (especially the French sister section, AAAF Toulouse – Midi-Pyrenees), newsletter editing and reporting, and more. Douglas has family connections in France by marriage and travels there often on vacation.


Sarah Shull, lead volunteer, AIAA-Houston
Sarah Shull is helping out with the Space Center Lecture Series as part of her role as Secretary of the AIAA Houston Section.  Sarah is also very active in AIAA at the national level, presently serving as the AIAA Young Professional Liaison to the Board of Directors.  For her day job, Sarah is a flight controller at NASA's Johnson Space Center and holds a B.S and M.S in Aerospace Engineering from The University of Michigan and MIT respectively.  At NASA, Sarah works as an Vehicle Integration & Systems Engineer working closely with SpaceX to integrate their Dragon cargo vehicle with the ISS.  In her free time, Sarah enjoys working on home remodeling with her husband, horseback riding, snow skiing and traveling.


Previous SCLS mission crew:
Mallory Jennings (JSC-EC511)
Brenton Hartung (JSC-DM421)
Victoria Kaiser (JSC-ER2)
Jacob Cook (JSC-DO52)
Holly Feldman (JSC-OM)
Natasha Rowell (AIAA)
Alan Steinberg (UH)
Ben Blaser (JSC-ES6)
Josh Figuered
Sian Terry (JSC-DM)
Munir Kundawala, (Lockheed)
Shirley Brandt (JSC-ER111)
Mike Frostad
Michael Oelke
Molly White (JSC-EG311)
Nathaniel Fisher (JSC)
Galina Povolotskaya (Boeing)
Tracy Richter (Galveston Housing Auth)
Andrew Hartnett (JSC-EV)
Galina Povolotskaya (Boeing)
Louis Abney (AIAA-Houston)
Irene Chan (AIAA-Houston)
Don Panno (Berkeley)
Todd Heino (NASA-JSC)
Renuka Prabhakar (NASA-JSC)
Emily Foraker (NASA-JSC)