Richard Garriott became the first second generation American in space when he launched aboard the Russian Soyuz TMA 13 on October 12, 2008. He achieved this goal by helping to usher in the era of private human access to space. He will talk about his own path to the stars, and what the coming fleet of private spacecraft means to the future of human spaceflight.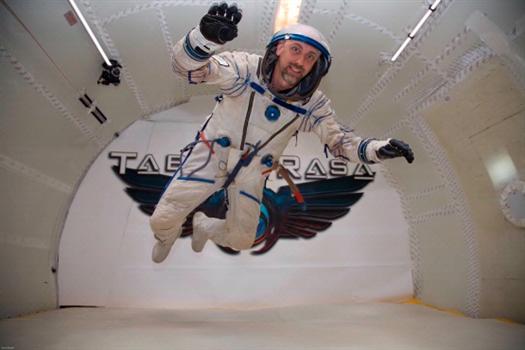 For a man who has experienced a lifetime of adventures ranging from the icy desert of Antarctica to the watery depths of the Titanic, space seems to have been the only stone left unturned for this explorer. A video game pioneer, Richard Garriott, traveled into orbit in October 2008 to fulfill a lifelong dream that has been with him since his youth. Born on July 4th, 1961 in Cambridge, England, as a son of astronaut Owen Garriott, Richard was set to start a life that would be unlike any other. Space flight was in the family.
We hope to keep our lectures free and are now accepting donations in any amount via PayPal.
T-shirts and onesies for sale!
100% of the proceeds are donated to the lecture series for future talks.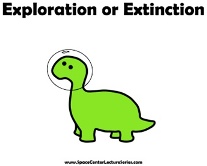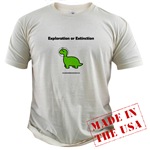 Design inspired by:
"If the dinosaurs explored space, they would still be alive today." -Dr. Don Pettit
"Since hazards from asteroids and comets must apply to inhabited planets all over the Galaxy, if there are such, intelligent beings everywhere will have to unify their home worlds politically, leave their planets, and move to small nearby worlds around.  Their eventual choice, as ours, is spaceflight or extinction." -Dr. Carl Sagan