NASA Gilruth Center-Alamo Ballroom, 7pm, July 21, 2011
Free: RSVP to reserve your seats
Dr. James L. Lewis, in 1961, was the Command Pilot of Hunt Club One, the code name for the helicopter assigned to recover Astronaut Gus Grissom. In 1961, Lt. Lewis was forced to release the space capsule when a warning light showed a danger of imminent engine failure. In 1999, Dr. Lewis was a member of the Discovery Channel team that recovered the Liberty Bell 7 from the Atlantic Ocean floor. After his career in the US Marines, Dr. Lewis held several management positions in which he contributed to the design of the Gemini, Skylab, Apollo, Space Shuttle, and Space Station Programs. He spent several years prior to retirement as the Division Manager for Space Station in the JSC Man-Systems Division.
Robert F. Thompson, in 1961, was the head of recovery operations for Mercury and established the recovery processes for Mercury, Gemini and Apollo. In thiscapacity he was the first person to speak with Gus Grissom after the loss of Liberty Bell 7. Later Thompson became the Program Manager for Skylab and the Space Shuttle. Mr. Thompson graduated with a BS in aeronautical engineering from Virginia Polytechnic and served in the US Navy prior to coming to the NACA in 1947.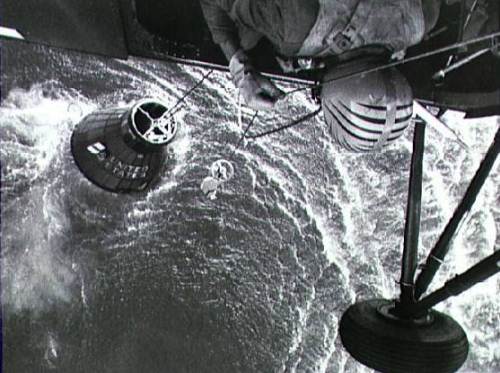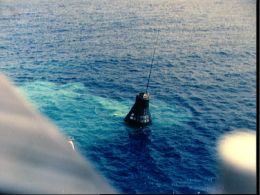 Free: RSVP to reserve your seats
















We hope to keep our lectures free and open to the public and are now accepting donations in any amount via PayPal. At your request, your name can be listed as a donor on the front page of our site. All donations will go towards providing future lectures.
T-shirts and onesies for sale!
100% of the proceeds are donated to the lecture series for future talks.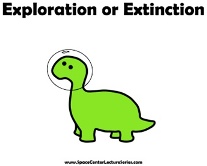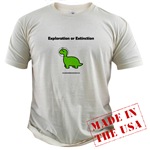 T-shirt design inspired by:
"If the dinosaurs explored space, they would still be alive today." -Dr. Don Pettit [2]
"Since hazards from asteroids and comets must apply to inhabited planets all over the Galaxy, if there are such, intelligent beings everywhere will have to unify their home worlds politically, leave their planets, and move to small nearby worlds around.  Their eventual choice, as ours, is spaceflight or extinction." -Dr. Carl Sagan [3]